The Fourth of July at Ferry Farm and Washington House Construction


FOR IMMEDIATE RELEASE
Date: June 27, 2017
Staff Contacts:
Andrew Barry, 540-373-3381 x16, barry@gwffoundation.org
Jessica Burger, 540-373-3381 x24, burger@gwffoundation.org
David Muraca, 540-370-0732 x23 muraca@gwffoundation.org
The Fourth of July at Ferry Farm
Tuesday, July 4, 10:00 a.m. – 5:00 p.m.
STAFFORD COUNTY, VIRGINIA – The George Washington Foundation invites visitors to honor our great Nation and Independence Day at George Washington's Ferry Farm—with significant progress on the construction of the Washington house. It is critical to preserve this important place in American history, where beginning in 1738 young George and his family called home!
After years of meticulous planning and preparation, The George Washington Foundation is now charging forward with its multi-year venture to physically develop George Washington's Ferry Farm into an outdoor living museum.
The first phase of the project includes building an interpretive replica of George Washington's boyhood home on its archaeological footprint, reconstructing the kitchen and outbuildings, and recreating the period landscape. Moreover, the Foundation is establishing a new entrance to the museum property, erecting a maintenance facility, and completing necessary infrastructure.
Expert craftsmen are employing early-American trades and techniques to fabricate the Washington house. With the beaded weatherboard siding painted a traditional, deep red "Spanish brown" color, and the hand-prepared roof shingles in place, the construction scaffolding was recently removed—allowing for an unobstructed view of its façade. Artisan masons are currently setting the bricks for the two main chimneys in an English bond interspersed with glazed headers, and master carpenters are hard at work on the interior features, for example, an elaborate staircase in the center passage. Skilled tradesmen will soon begin applying a period-appropriate plaster – composed of soft lime putty, sand, and animal hair – to the interior walls.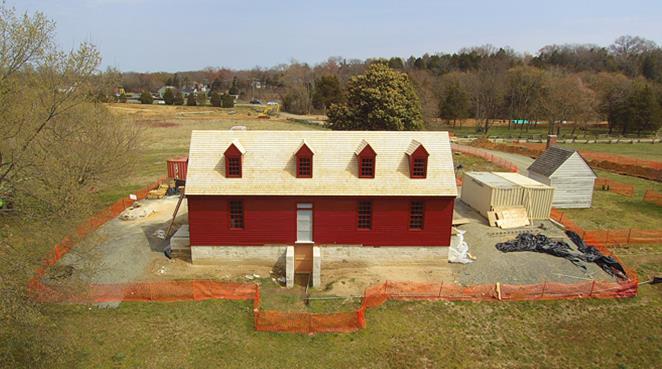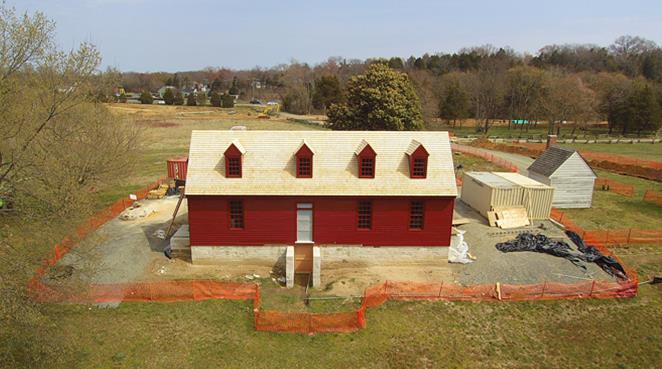 Constructing the Washington house and the first phase at Ferry Farm is a funding priority for the Foundation as part of The Future of Our Past Campaign—a $40 million dollar comprehensive fundraising initiative toward efforts across its two National Historic Landmark sites: Historic Kenmore and George Washington's Ferry Farm. Learn more about The Campaign and supporting The Foundation.
Throughout the day, at the Fourth of July at Ferry Farm event, guests are invited to talk with educators at the construction site about the Washingtons' life at Ferry Farm in addition to eighteenth-century architecture, archaeological research, and elements of the project to come.
Craftsman will demonstrate several of the period trades required to construct the 1740s Washington house, for example brickmaking and stone masonry.
A flag retirement and replacement ceremony – a July Fourth tradition at Ferry Farm – is scheduled for 1:00 p.m. Participants include members of The American Legion, ROTC, Boy Scouts of America, American Heritage Girls, Congressman Rob Wittman (1st – Virginia) and government officials representing the Commonwealth of Virginia, Stafford County, and the City of Fredericksburg, with patriotic music by The Enduring Freedom Honor Team, who will also perform in concert beginning at Noon.
Additionally, on Independence Day, guests may enjoy activities such as educational programs that highlight this year's theme, "Building America," archaeology presentations at the Washington house site, dramatic performances, the Ferry Farm demonstration garden, The George Washington Foundation Oral History Project, visiting with "General George Washington", Colonial and Civil War re-enactors, members of the Patawomeck Tribe, hands-on history projects such as soap making, a variety of children's games, face painting, a hay bale maze, and in general, fun for the whole family.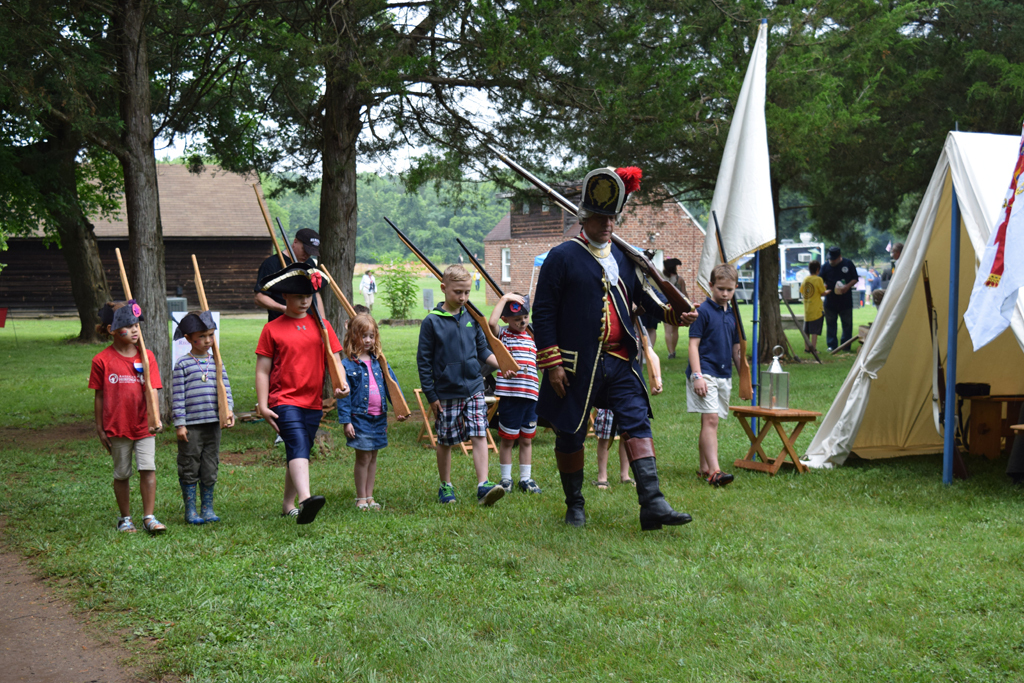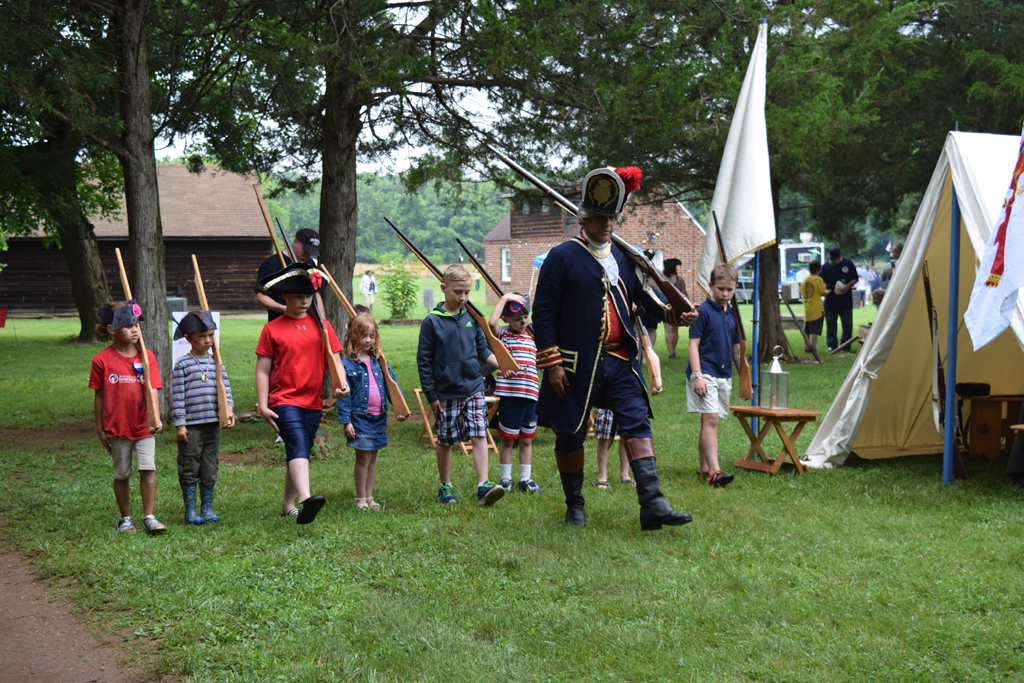 Information on volunteer positions at The George Washington Foundation – opportunities throughout the year to lead tours of the Washington house and Historic Kenmore or assist in the archaeology laboratory – will be available on the Fourth.
Media partner B101.5 will broadcast live from Ferry Farm from 10:00 a.m. to noon on the Fourth. Hear more from Foundation staff about the Fourth of July at Ferry Farm and the Washington house under construction on a rebroadcast of Fredericksburg's TownTalk with Ted Schubel.
Admission: $1 per person; 2 and under free.
Free parking at the Fraternal Order of Eagles at 21 Cool Springs Road with shuttle service to Ferry Farm—ride a bus or trolley to/from Eagles Lodge or the July Fourth Heritage Festival in downtown Fredericksburg. Parking at Ferry Farm is available for handicapped visitors only.
A variety of food vendors will be on site. Please—no pets, coolers, or alcohol.
A special thank you to the Foundation's sponsors for the Fourth of July at Ferry Farm: Splitsville, Hirshler Fleischer, Stafford County Tourism, and Fredericksburg's NewsTalk1230 WFVA and B101.5 WBQB.

The Foundation is pleased to provide high resolution images upon request.
---
The George Washington Foundation is a 501(c) (3) non-profit organization. The Foundation's mission is to enhance the public understanding and appreciation of the lives, values, and legacies of George Washington, Fielding and Betty Washington Lewis, and their families.

Please visit ferryfarm.org and kenmore.org for more information.

Ferry Farm is located at 268 King's Highway, Stafford County, Virginia
Kenmore is located at 1201 Washington Avenue, Fredericksburg, Virginia

Visitors to Ferry Farm view archaeologists at work, see the artifact conservation laboratory—over 750,000 artifacts have been excavated at Ferry Farm, tour the visitor center with the exhibit, The Science of History at Ferry Farm, and enjoy the self-guided iPad tour—Uncovering George Washington's Youth, updated for Phase 1 construction.

Kenmore guests enjoy guided tours of the restored house with eighteenth-century furniture and accessories throughout its first floor, the Crowninshield Museum Building with exhibit, The Patriots' Lewis: What Would You Give. Visitors may also explore extensive gardens, including a formal, foursquare garden edged in boxwood as well as a plot of herbs that supply newly enhanced hearth cooking programs for school children in the kitchen outbuilding.

George Washington's Ferry Farm and Historic Kenmore are open most days, March – December—learn more at ferryfarm.org.

Learn more from the Foundation's archaeologists, curators, and educators on the
Lives & Legacies blog.
Find George Washington's Ferry Farm and Historic Kenmore on Facebook.
Copyright © 2017 The George Washington Foundation, All rights reserved.