At Historic Kenmore and George Washington's Ferry Farm, families and children have the opportunity to understand the people, events, and ideas that shaped the American spirit by walking in the footsteps of George Washington, Mary Washington, Fielding and Betty Washington Lewis, and their families as well as the Native Americans, enslaved communities, Civil War soldiers, and other people who called these landmarks home.
Kenmore and Ferry Farm educators are hard at work updating educational programs for families and children and ensuring visits to our sites provide engaging learning opportunities in a safe environment. In general, at both Kenmore and Ferry Farm, a cleaning schedule has been established above and beyond the daily cleaning methods. This will assure that all surfaces encountered by the public are wiped down thoroughly several times a day. Alcohol-based hand sanitizer is available. No one with a fever or other symptoms of COVID-19 is permitted on-site.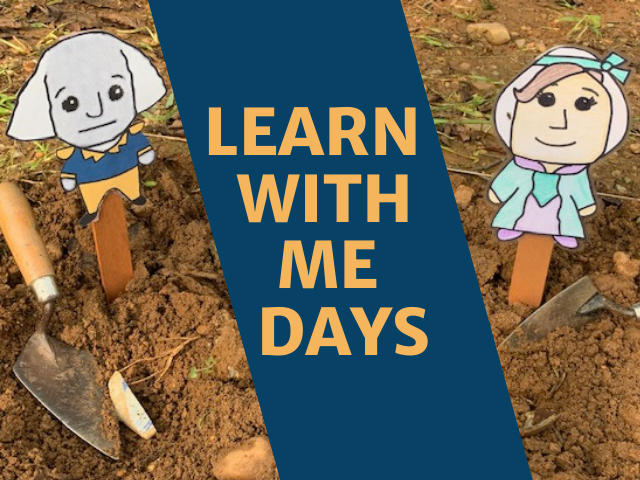 Learn With Me Days at Historic Kenmore and George Washington's Ferry Farm are on-site programs (aligned with Virginia SOLs) for students who are virtually learning and for homeschool students. Topics will rotate monthly between George Washington's youth, daily life in early America, the Lewis family in the Revolutionary War, and the basics of archaeology.
Reservations: Registration required. $10 per student; $5.00 per adult. Time blocks will restrict group size; there will be several time blocks available. Length of program is 60 minutes.
All students must be in grades K-6.
Social distancing will be observed and masks are required.
Currently on hiatus but Learn With Me Days return in 2021 starting in March.
Children's group visits can be scheduled for public schools, private schools, home schools, daycare centers, scout troops, summer camps, church groups, and any other children's groups.
Currently, children's group visits can only be accommodated at Ferry Farm.
COST
Ages: Pre-K to 5th
$10 per child
$5 per chaperone
MAXIMUM GROUP SIZE
10 children, 2 chaperones
Multiple time blocks per day may be scheduled to accommodate larger groups.
TIME
1 hour
SCHEDULE A CHILDREN'S GROUP VISIT
Reservations are required at least two-weeks in advance. To schedule a visit or if you have questions, email groups@gwffoundation.org or call 540-370-0732 x27.
NOTE: There are no food services available at either Ferry Farm or Kenmore. For lunches or snacks brought by children, Ferry Farm and Kenmore offer plenty of shaded, grassy areas for picnics. When you schedule your visit, please let us know if you plan to lunch at our sites.
CHILDREN'S GROUP VISIT PROGRAMS
I Dig George
Children dig at a simulated archaeological site. They also learn about gridding the dig site, sifting for artifacts, and then washing, identifying, and mending artifacts.Participants engage with the archaeology process and learn the importance of the process to historical research. Children are challenged to think critically about artifacts they uncover during their dig and leave with a new-found knowledge of what can be discovered under the ground.
Dig pits are 6 feet apart to ensure proper social distancing, families may share a pit if preferred. Masks are required.
Additional programs forthcoming.